Why Use Our CD Printing Service?
Printing CDs can be done at home but if you are looking to print CD for your professional band or a corporate event or even to use for marketing promotion, then you wouldn't want your printed CD to look very amateurish.  For the sake of a few bucks, you would not want to sacrifice on the quality of the product that you are passing on to your potential client or fan follower.
The person receiving your media content should feel that you have put everything in your capacity to bring out a good product. That's why it makes sense to get your CDs printed at a professional outfit.  CD artwork done by experts is essential for the success of a band or solo artist or album.
Because professionally Printed CDs have that expert look to it. At VP Online, we have been doing this for years and our staff are experts at producing that perfect product, so that when you distribute your creative work, the packaging and perfection of the product adds a lot more credibility.
Making your own print CD can result in the following pitfalls:
Poor Quality Printed CD's
Expensive Ink Consumption
Time Consuming
Cost Of Purchasing CD's
Why should you choose us for your CD Prints?
Cost-efficient packaging solution
Quick turnaround times of approximately 3-14 days
Low cost, best quality printing services
Custom printing for all occasions
The UK delivery from £4.99.
CD Printing service is suitable for
Standard CD jewel cases
CD slimline cases with a clear or black back tray
As part of our printing process, we make sure that we source the best quality materials. The brand of CDs and DVDs we use are high quality professional grade AAA rated CD/DVD discs.
Our Cases are also Grade A Cases and for printing Covers and Sleeves, we print on 130 gsm or Card at 350 gm with digital printing. Printed Parts use the highest quality paper and highest weight in the industry. We are able to offer the best possible prices by making use of digital printing, and litho printing process to print directly on to 130gsm silk paper.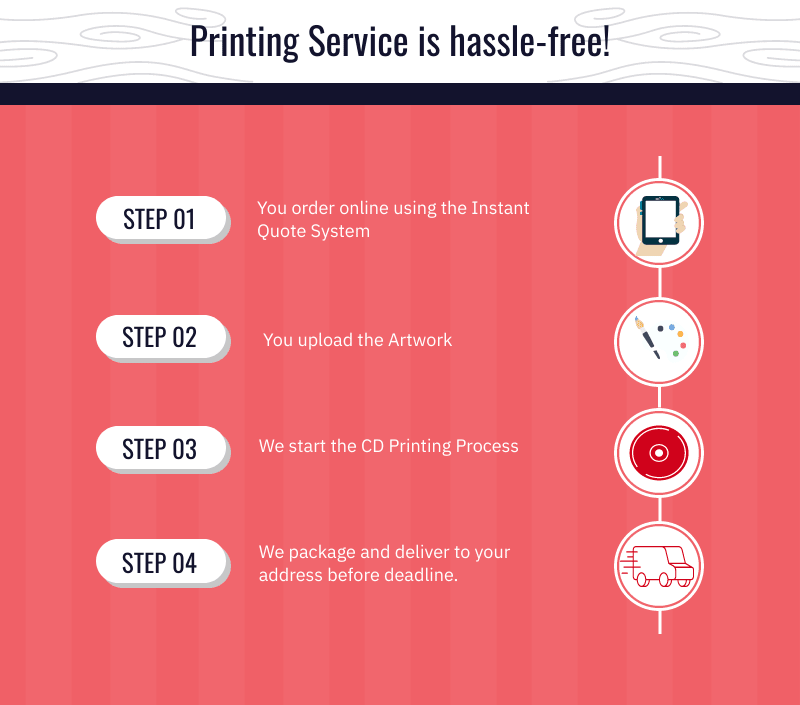 Upon receiving the Order through our easy to use Instant Quote System, you are then able to add the Print CD artwork through our portal. Once printing request is received at our Studio, our Order processing team gets all the required raw materials ready.  we can also print directly onto CD's and DVDs, complete with varnish and finishing options to give your discs the professional look and feel they deserve. Your printed CDs will be of the highest standard, with beautiful vibrant colours and the design that will not only capture the interest of the recipient but also improve your business brand image.
Your CD/DVD case can have the option of a cover and/or booklet to be a single or double-sided sheet. If you require more pages for your booklet – this must be created in 1, 2, 4, 8, 12, 16, 20 and 24.
Our CD printing services also include inkjet CD printing and thermal gloss lacquering CD printing. We do CD printing for all purposes at its best. Keep in mind, CDs with an inkjet optimised print surface can only be used for the printing process. While for thermal gloss lacquering,  only discs with a special inkjet surface coating can be used.
We can offer assistance on the types of templates to suit your needs.
If you would like more information on our printing services – please contact us on info@vponline.co.uk or call us on 01241 874 749.
Address and full contact details are on our Contact Page.
That's why with our many years of experience within this field, VP Online offers the highest quality CD Printing Services in the UK, ensuring that the above pitfalls are removed from our process, and delivered to you in the highest standards that you deserve.
We offer competitive prices on all our printing cd services, and even beat or match any CD Printing quote that you may find.
VP Online - How to Videos
Custom CD Printing: Types of CD Packaging